---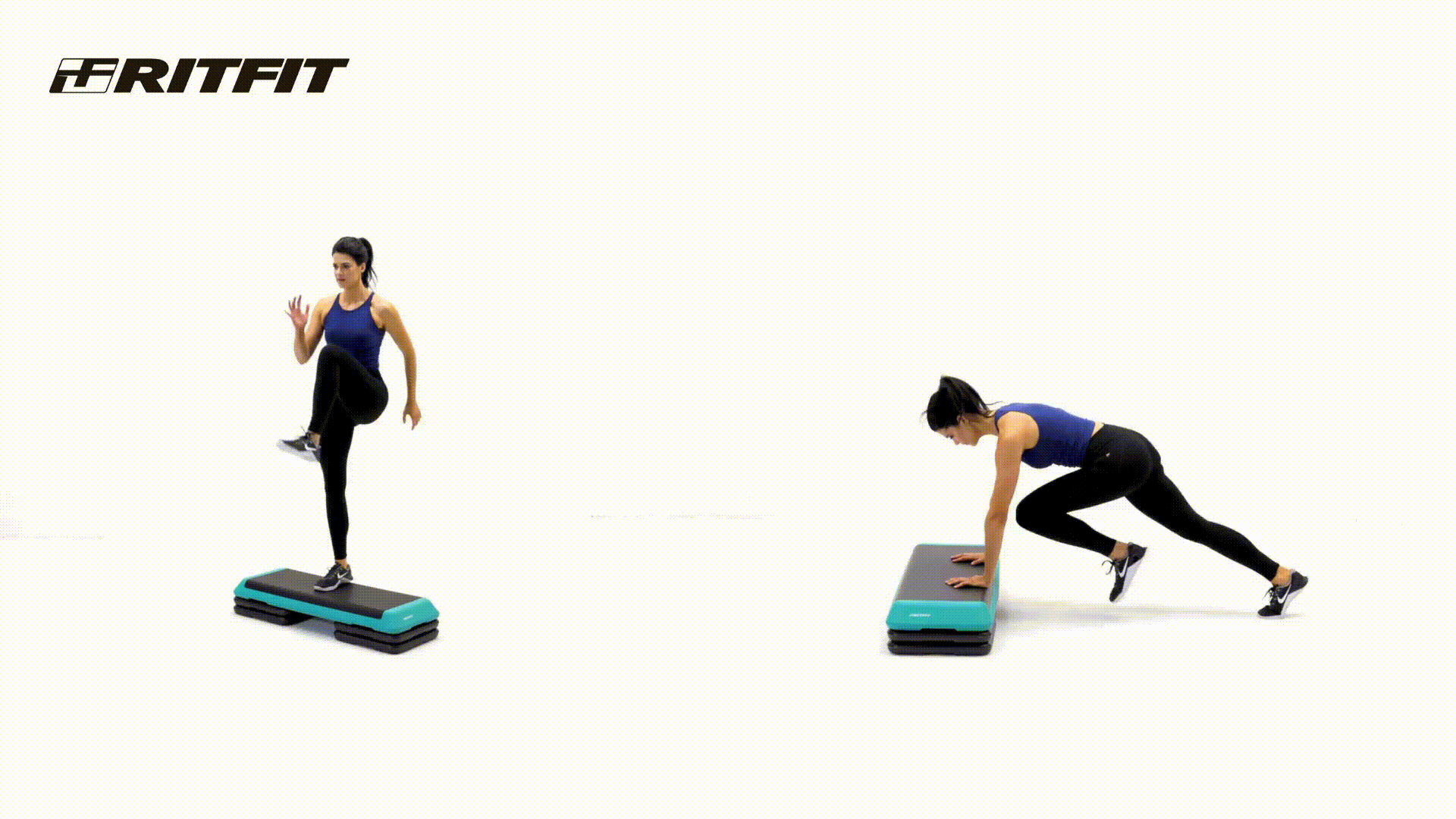 This aerobic stepper is sturdy enough to support up to 300 pounds of weight. The versatility of this stepper is ideal for mixing up any workout program and more complex cardio exercises at studios and homes. 
The risers come with nonskid feet that prevent them from shifting out of place to protect you from injury whilst also being compatible with the original step. Sturdy and durable for every lunge and jump, the RitFit Adjustable Aerobic Stepper's non-slip surface helps you to focus on your form and keep you safe during workouts. 
With an adjustable height from 4'' to 8'', it's easy to alter the intensity of your workout. You may even level up your workout with this aerobic stepper by adding extra risers which could be purchased separately. 
Aerobic Stepper is often incorporated into choreographed routines to upbeat music. Use RitFit Adjustable Aerobic Stepper to start your cardio routine as an up-tempo way to get your heart pumping and your body fit. 
SPECIFICATIONS
Platform: 15.7'' W  42.7''L  4''H

Riser: 15.7''W  15.7''L  2''H

Total Weight: 15.4Lbs

Load Capacity: 300Lbs

Colors: Red, Grey, Blue
Aerobic accolades
Our Aerobic Stepper with Adjustable Risers works perfectly for my wife and me.
Now, if it only had instruction for dance steps......
Enjoy your Aerobic Stepper - thank you, Mayer !
Love the step also it was shipped in a couple day
Amazing - thank you, Phillip !
Amazing, I feel like its 1993 again!
WOW! This takes me back to when I was a step aerobics queen! Yeah, I said it. This is excellent quality, just like the benches I used to use in aerobics studios. All I need is some spandex body suits and giant hair, white reebok sneakers, and nothing can stop me. I immediately set it up and have been using it all day, driving my family crazy showing them all my 90's step moves. Oh yeah! Excellent price, very sturdy, the real deal.
That's great to hear - thanks so much for sharing your experience, enjoy your step, Beth :D
Great
Really sturdy. Perfect for for a variety of workouts. Just like you find it in a commercial gym!
That's what we like to hear, Jennifer !
Step platform
Love my new stepper platform!
Great size and good shock absorbent.
Very happy with my products and service.
We're happy you found us - enjoy your new stepper!