---
「Free Workout Resources」
The Gymwell Portable Resistance Workout Set 2.0 comes with a workout poster detailing 30+ exercises, and now all RitFit customers will have FREE access to these HIIT exercises to tone your core muscle groups, upper body, and lower body. 
☛ How to access free workout programs on FitBanx

A creative workout concept simulating bulky equipment at gym and turn workouts machines into a tiny small bag that you can take anywhere! Do as many workout sessions as you want and not worry about the hustle! Gymwell's Portable Resistant Workout Set helps you overcome the traditional barrier of confined place and time to exercise, use it to work out at your home, in your office, in a park, or on a beach whenever you feel like to exercise.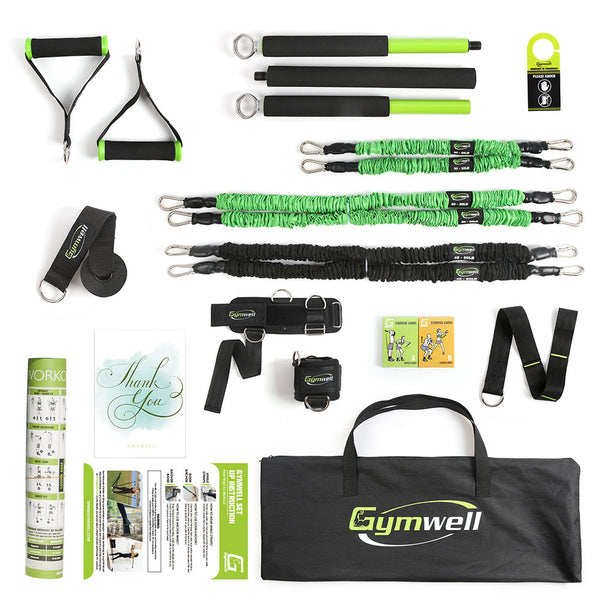 What can Gymwell Workout Set do?
The patent-pending Gymwell Portable Resistant Workout Set blends barbell, dumbbell and cable machine in one piece of equipment and provides unlimited variety.
Comes with three pairs of resistance bands in different lengths and levels of tension. Make your exercises easy or hard by adjusting the resistance bands tension levels from 30 pounds to over a hundred of pounds. A pair of special ankle straps was developed for the Portable Resistant Workout Set for different movements such as curls, presses, rows, deadlifts, squats and many more! The workout set is ideal for people at all fitness levels and accommodates all body types and heights.
You'll save time and money when you consolidate your workout equipment. The unique design allows for a wide range of motions and exercises.
Save thousands of dollars on hiring a personal trainer or paying for monthly gym membership fee to get fit!

We will help you familiarize with your Gymwell Workout Set and show you how to practice your body muscle groups.

You will receive two free posters detailing 76 movements categorized by different muscle groups in your package.

We will send you an URL to watch an instructor performing all exercises once you purchased the set!